Skylight Fields¶
Adding a Skylight Field¶
On pressing the Add button, the Skylight Designer shows in Skylight Field mode. This mode has fewer additional options than Skylights Report selection mode.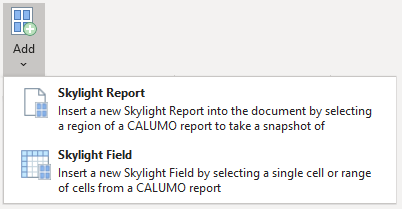 Load a CALUMO report by typing in the URL or using the Select Report button
Once a report is selected, it will load into the main frame of the Skylight Designer from where a single cell or range of cells can be selected to return as Skylight Fields.
Selecting Single Cells¶
To select a single cell, simply click on it and press OK. The cell will be returned to your document as a Skylight Field.
Selecting Ranges¶
To select a range of cells, click on the top-left cell of the selection and drag out to cover all the desired cells and press OK. These cells will be returned to your document as Skylight Fields within a Word table.
Video Example¶
The following short video demonstrates the different ways to select Skylight Fields: