Skylight Options¶
Server Connection¶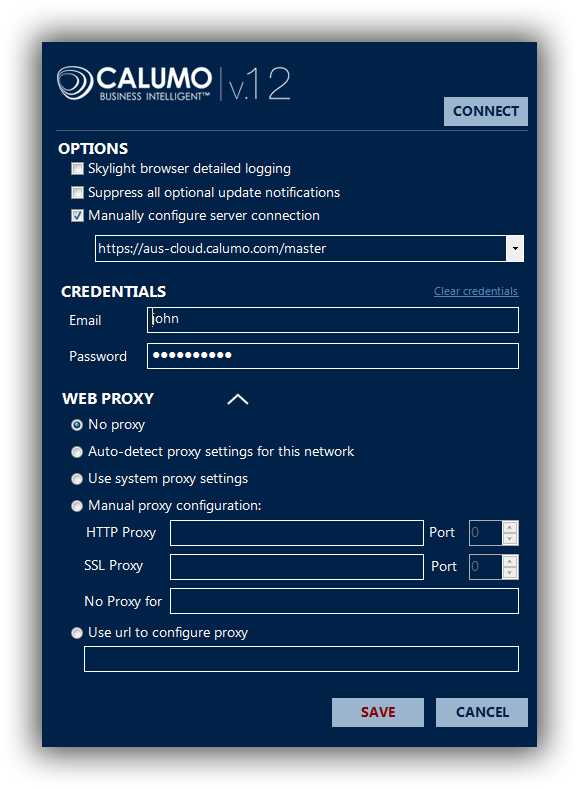 Type your credentials (username/password) and click the Test Connection button to ensure you have successfully connected to the CALUMO server.
If you wish to change your server connection, check "Manually Configure server connection" and test using the "Connect" button
Web Proxy Settings¶
Your organisation or Internet service provider may require you to use a proxy. A proxy acts as an intermediary between your computer and the Internet. It intercepts all requests to the Internet to see if it can fulfil the request using its cache.
Proxies are used to improve performance, filter requests, and hide your computer from the Internet to improve security. Proxies are often part of corporate firewalls.
Settings List¶
In Options, you can select the following proxy settings:
No proxy¶
This is the default option. Choose this if you don't want to use a proxy
Auto-detect¶
Choose this if you want Skylights to automatically detect the proxy settings for your network
Use System Proxy Settings¶
Uses your default Windows proxy settings
Manual Proxy Configuration¶
Choose this if you have a list of one or more proxy servers. Also note the following the points:
Ask your system administrator for the configuration information. Each proxy requires a hostname and a port number
If the same proxy name and port number are used for all protocols, tick: Use this proxy server for all protocols
No Proxy For: List of hostnames or IP addresses that will not be proxied
Automatic Proxy Configuration URL¶
Choose this if you have a proxy configuration (.pac) file. Enter the URL and click OK to save changes and load the proxy configuration.