Linked Analytics¶
Linked Analytics provides a means of navigation between documents via a customizable menu of links.
The Linked Analytics menu shows in reports and views and is uniquely associated with the underlying report or view - so that each view/report can have a different set of links.
Linked Analytics menu on a report toolbar - with 2 links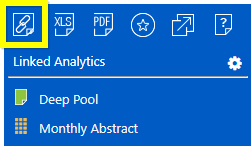 Linked Analytics menu on a view toolbar - with no links yet added

An Admin or Publisher can edit the links and their properties and behavior (use the edit/cog icon)
Using Links¶
Any user can simply select a link to open that document.
In addition, there are 2 different ways in which the behavior of the links is affected
if you select a report or view cell before selecting a link - all the member UID's available (through same process as drill) are added as slicers on the query string
if no cell is selected before selecting a link - available slicers (on the report/view) are added to the query string
Manage Links¶
This interface is accessed by selecting the cog icon - top/right.
An Administrator (or Publish Administrator) can add/remove links and also manage the query string and slicers which are passed to the linked document - using the Manage Links dialog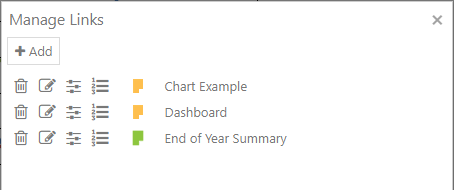 There are 4 operations available, described below
| Icon | Function | Description |
| --- | --- | --- |
| | Delete | Delete this link (the underlying document eg report is not deleted) |
| | Edit | Edit this link - change the document linked to or the way it is opened (display style) - see Edit Details dialog below |
| | Slicers | Slicers ultimately create a query string but allow for more accurate selection by showing Member Explorer |
| | Query String | Customizing a query string via the Query String Editor - see also working with Query Strings |
Add / Edit Link¶
Editing a link (edit icon) enables changing the link (eg report/view), as well as the Display Name and Display Style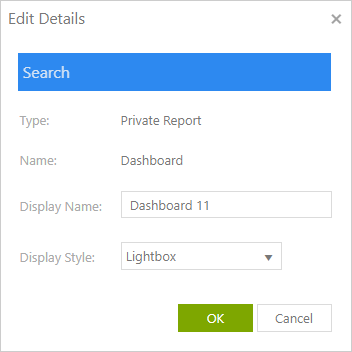 The Display Name can be customized (the name of the underlying document is unaltered)
The Display Style is a dropdown selection of 4 options, describing how the link will be displayed to the user when selected (see chart below)
| Display Style | Description |
| --- | --- |
| Browser Tab | Open a new browser tab (subject to browser settings) |
| CALUMO Tab | Open a CALUMO tab (see CALUMO Tabs) |
| Lightbox | A lightbox is an overlay window that shows in-place and is closed by clicking anywhere outside. This is the default choice |
| Window | A new browser window |