Group Management¶
Group Management is used to manage groups (creation/deletion) as well as allocating users to Groups.
Find (Filter)¶

The text for both columns (name/description) is searched
Delete¶

Deletes the selected group - confirmation dialog will be shown.
Add¶

Add new group. Name is required, description is optional.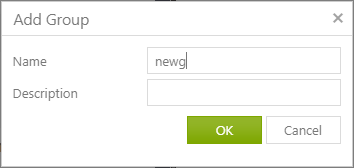 Managing Users¶
Searching¶

The Assigned users are all visible and can be filtered in order to find a particular one.
The Available users are searched dynamically and the first 100 retrieved. Each character typed loads the next 100 users with the given text in their name.
User Assignment¶
Users are shown in "buckets". The Assigned bucket contains users that the selected group is already assigned to or in and the Available bucket shows users that are not in the selected group.
To manage the selected groups' users, select the arrow to assign the user in and the cross to remove.
Pressing any single arrow or cross while multiple are selected, will move all the selected users.